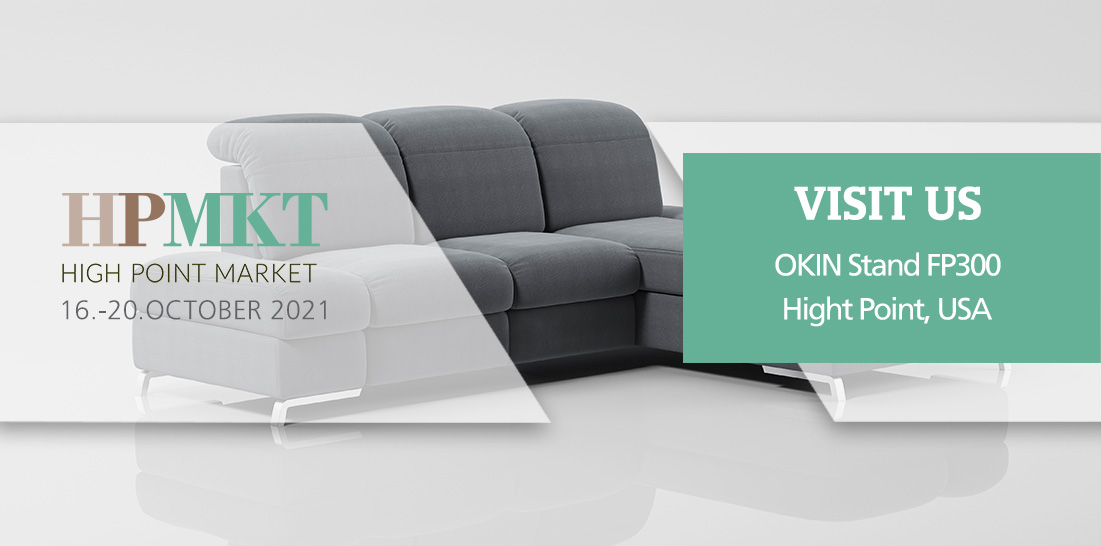 DewertOkin at the High Point Market Fall
The autumn edition of High Point Market, which takes place every year in April and October, is the most important trade fair for furniture trends, innovative designs and modern interior design. Roughly 2000 international exhibitors in around 180 buildings will be displaying their latest products and technologies, including everything from small accessories to extravagant luxury furniture. DewertOkin will also be exhibiting at High Point Market Fall, 16-20 October 2021, showcasing innovative drive technology for the Bedding and Seating sectors, as well as requirements-based recliner mechanisms for high-end seating applications.
We have the right products and mechanical components for both modern and luxurious beds as well as first-class, high-end seating furniture providing smooth adjustment and extra comfort. Our smart drive systems, consisting of linear drives, control unit, operating element and optional accessories, enable individual positioning, memory positions and even a massage function. OKIN also offers a wide range of mechanisms for adjustable upholstered furniture with motorised back and foot sections. Our 6111D mechanism is specially designed for ergonomic lift chairs to make it easier for the user to get up and go about their daily routine. Headrests like the 2314A, our massage motors and handsets like the elegant Atlas make sitting and operation even more relaxing. We will also be presenting our comprehensive portfolio of other chair mechanisms such as the zero-wall mechanism 9001D or the wood-to-floor mechanism 516D.
See for yourself and visit us at the High Point Market!
High Point Market Fall
Dates: 16 until 20 October 2021
Status: FP300
Venue: Highpoint, USA
Until then, we wish you good health and a good time.