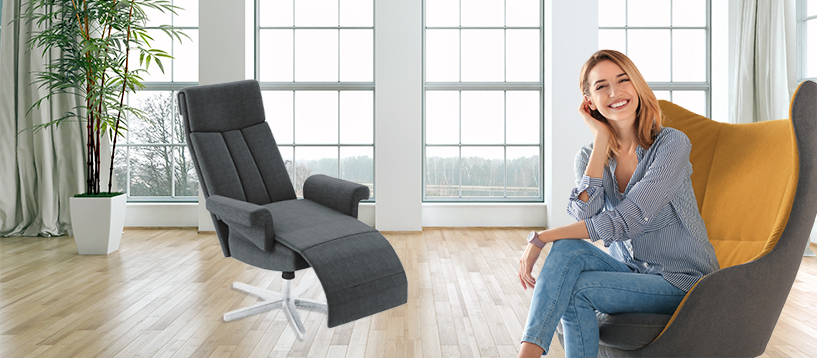 OKIN functional mechanisms
One-Stop-Shopping for intelligent furniture
With more than 20 years of experience in the furniture industry, DewertOkin is the world's leading manufacturer of drive and system technology for motorised adjustable armchair and sofa applications. In addition to the established product portfolio, DewertOkin designs functional mechanisms for adjustable upholstered furniture with motorised back and foot sections under the brand name OKIN. These mechanisms are available in manual or electrical (motorised) versions to match the product series.
These functional mechanisms feature the high-quality workmanship, robustness and reliability that DewertOkin is known for. DewertOkin relies on innovative system-based solutions to offer a one-stop shopping experience with many advantages. Whether it's for comfort chairs for home use or sophisticated cinema seating – DewertOkin is your single source for drives, control units, operating elements and hardware technology.
Wide range of functions
Functional mechanisms from OKIN offer many functions with real added value. For example, the anti-pinch protective mechanism: This patented function ensures that the closing movement of the mechanism stops in the event of a dangerous situation. It can also be easily adapted to existing applications.
The occupancy system uses capacitive technology to determine whether or not a seat is occupied by a person. This information can then be used for various purposes such as automatic activation or deactivation, wake-up and sleep options, and any other functions related to a connected device.
An intelligent control unit for electrically adjustable cinema seats is a must-have for any modern cinema. The cinema seats can be intuitively controlled by customers using a built-in handset or a modern app solution to reach their desired positions. It is also possible to simultaneously open and close all seats. This greatly reduces the work of the cinema staff before and after a film.
Functional mechanisms and drive technology combined
When used together with DewertOkin drives, users receive powerful systems for modern adjustable upholstered furniture that can satisfy the toughest requirements. OKIN offers a wide product portfolio of single drives – from the very compact MICRODRIVE 3 to the powerful DELTADRIVE with 6000 newton of compression force. DewertOkin is able implement smooth and fast adjustments for mechanism applications because of its requirements-based coordination of functional mechanisms and drives.
A wide range of handsets and operating elements ensure convenient operations. The wireless variants feature integrated RF and Bluetooth connectivity, so that upholstered furniture can be adjusted using radio hand transmitters, apps or voice control. Our line of system products is supplemented by accessories including integrated modular power packs for battery-powered supply and massage motors.
Customised functional mechanisms
We also design and implement customer-specific projects at our German locations. By taking advantage of joint project planning, we plan and customise the complete system and integrate the necessary functionality according to customer requirements.