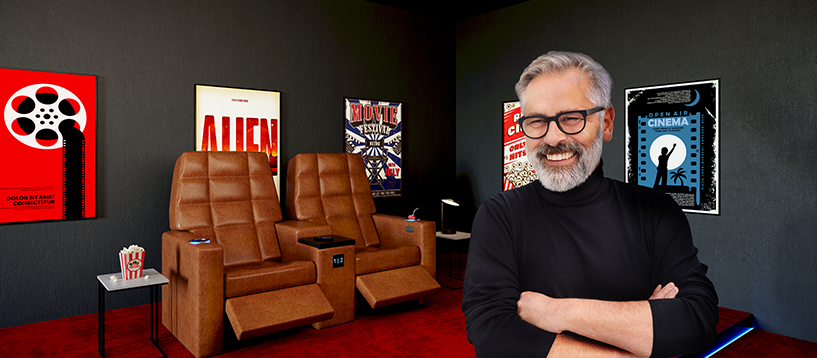 Cinema
High-quality mechanisms and drive technology for adjustable cinema seats
Due to increased competition from Netflix, Prime and other streaming services, cinemas have had a gradual decline in visitor and sales figures for several years. While some operators are reacting by cutting prices, others are shifting in the other direction: with elegant and very comfortable furnishings for the premium segment. That's because the biggest target group today is no longer teenagers, but viewers between the ages of 50 and 60. Compared to young people, older audiences often have higher expectations for their cinema experience. Improved comfort in cinemas is primarily provided by more comfortable, versatile seating options.
With more than 20 years of experience in the furniture industry, DewertOkin is the leading manufacturer of drive and system technology for motorized adjustable armchairs. Under the OKIN brand, we also offer requirements-based, high-quality functional mechanisms for adjustable cinema seats. We not only manufacture components such as drives, control units and control keypads, but also design and implement tailor-made customized projects. Our customers also benefit from quick deliveries and a worldwide sales network that is available for all service issues.
Robust fittings for adjustable cinema chairs
Modern, high-quality cinema seats require equally high-performance mechanisms – OKIN understands the importance of this. In the area of mechanisms technology, we offer a diverse range of products that cover a wide variety of cinema requirements. An example is the mechanism 517D. This robust "wood-to-floor" mechanism ensures outstanding comfort and safety. The mechanism is available in several sizes. It provides smooth and frictionless adjustments for the foot and back sections.
In contrast, the 9001D mechanism simulates a zero-gravity feeling in the room when you sit down. As a self-supporting "metal-to-floor" mechanism, it is very robust which ensures a high level of stability for the user. The 9001D mechanism is also available in several sizes. It provides smooth and frictionless adjustments of the foot and back sections for cinema seating.
One-stop shopping: for a wide range of accessories
OKIN also develops the suitable drives, control units, control keypads and accessories for adjustable cinema seats to match these mechanisms. This includes, for example, the new Ridge line of handsets. These can be used to conveniently and precisely adjust the head, back and foot sections of an armchair or sofa. Easy operations are ensured by the ergonomic high-quality design and the home button.
OKIN's Double Face cup holder is perfect for any modern comfortable cinema seat. One advantage it offers is integrated backlit lighting, so that moviegoers can quickly grab their drink in the dark. The Double Face is also very easy to clean – an important benefit that ensures speedy workflows in busy cinemas.