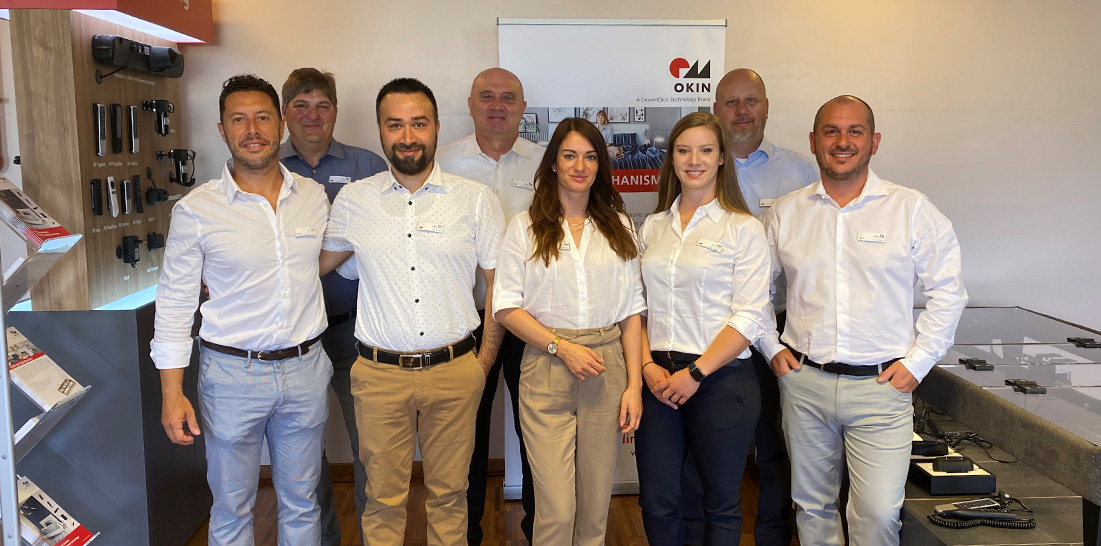 The exhibition of OKIN in Milan was a great success
We were finally able to meet with our customers, partners and interested parties in person again and exchange information about the latest trends in the industry at our successful presence parallel to the Milan Furniture Fair from June 07 to 10, 2022 in Milan! The exhibition in the neighbouring NH Hotel in Italy was a complete success for us and we look back with satisfaction on those exciting days, new dynamics and successful discussions with new innovation drivers, market leaders and long-standing partners.
We would like to take this opportunity to express our sincere thanks to our cooperation partner Lino Sonego and to all visitors who came to see us in our showrooms! We are pleased with the interesting technical discussions about the furniture industry, trends and applications as well as the all-around positive feedback about our products and our systems and mechanisms. Our drives, mechanisms, control units as well as handset switches and operating elements for the Bedding and Seating sectors were well-received all around.
Do you have any further questions? Come and see us!
If you still have any questions afterwards, we will gladly speak with you again. We would like to provide you with further information on our service offer and discuss your specific enquiries in detail. We hope that together with you we will explore the future possibilities of collaborating as partners.
If you were not able to attend our exhibition in Milan this time, we kindly invite you to contact us. We are happy to answer any questions you may have about products, services, and other topics, or enable you to visit our virtual trade show showrooms.