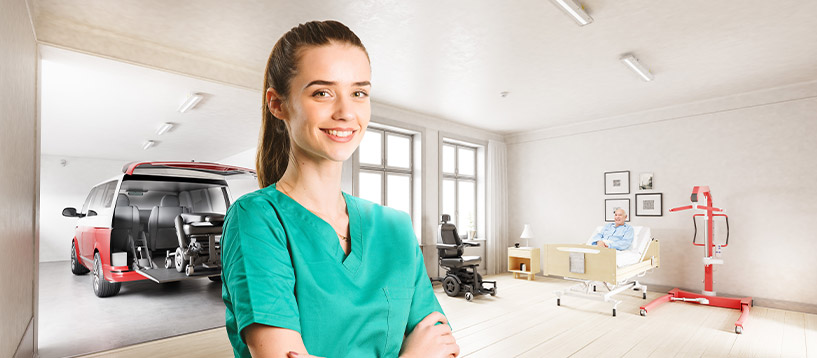 Care
Reliable drive technology for the care sector
In the course of a demographic change, our population is getting older and older. This also increases the demand for care services for the elderly. At the same time, many nursing facilities are lacking personnel. In order to improve efficiency, intelligent technical solutions are needed to make patients feel safe and to give nursing staff more time for the actual care. This applies not only to the facilities but also to outpatient care at home, since home care is increasingly being requested by patients. Drive and system technology from Dewert can help here – both for home care and for senior citizens' centres and hospitals. Adjustable nursing beds, sanitary facilities and motorised wheelchairs with a stand-up assist functionality enable patients to remain independent in everyday life for as long as possible. Powerful and safe drive technology is the key here. Care solutions from Dewert provide patients with outstanding safety and reliability and make it easier for them to get up, sit or lie down. Ease of use is ensured thanks to the versatile operating possibilities.
Dewert meets the most demanding requirements
The demands on modern adjustable healthcare beds are high: they must be durable, reliable, technically versatile and comfortable. Intelligent drive technology from Dewert unites all these characteristics. Dewert products are single-fault protected and meet all of the required standards. Their robust and compact design, combined with their high push and pull forces, enable them to be used in applications such as in low nursing beds and bariatric beds. Dewert's new generation of drives includes the MEGAMAT 20. It is not only very powerful but, due to its compact and extremely stable construction, it is also suitable for applications with only limited space available. The drive can be easily controlled using the IPROXX 2, for example. The handset combines robustness and versatility with a slim, elegant design. In addition to nursing beds, lifters are also an essential component for patients needing care. Here too, Dewert provides the right technology: our ACCUCONTROL system allows the patient lifter to be raised and lowered safely at any time.
Proven drive technology – for today and the future
Our drive technology has already proven itself millions of times throughout a variety of industries. Nevertheless, we are not resting on our laurels. Based on our many years of experience in drive and system technology, we continue to develop products that will meet the needs of future patients and caregivers.