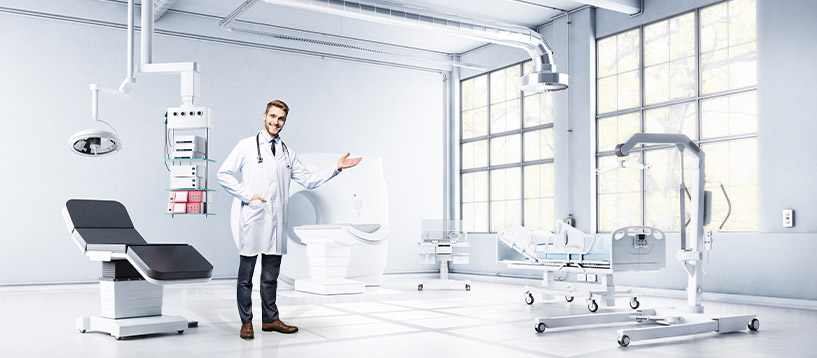 Hospital
Powerful drive technology for hospital applications
Thanks to medical progress, life expectancy in the EU has increased by more than six years since 1990. At the same time, the risks of falling ill increase with age. There are also a growing number of overweight people, which is a burden on the health system. Technical aids are necessary to ensure patient comfort and to relieve the medical staff – and drive technology from Dewert makes this possible. In the future, fewer nursing staff will have to care for more and more patients. Reliable technology is essential to deal with this. Patients and staff depend on technology every day and must be able to use it quickly and intuitively. Electric drives are at the heart of sensitive applications such as intensive care beds, treatment tables and supply units. Dewert's drive and system technology provides many safety features. Thanks to its high-quality construction and robust components, this technology meets the most demanding requirements for tight seals and hygiene.
Uniting comfort and safety
The demands on the functionality of hospital and care applications are enormous. This also applies to the drive systems installed in such applications. Dewert products are not only very reliable, but also safe and precise. They are used in incubators, patient lifters, hospital beds, treatment tables, computer tomographic machines, magnetic resonance imaging devices and supply units. This benefits both employees and patients – because thanks to these systems, caregivers no longer have to perform dangerous lifting operations and have more time for important care tasks. Patients can easily adjust their beds themselves which improves their quality of life. These are just a few of the many advantages. As a systems provider, Dewert not only equips hospital applications with tailor-made drive technology – we also provide the control keypads and a comprehensive range of accessories.
Pioneering technology
As an innovative globally active company, DewertOkin is continually developing pioneering systems for the hospital and care sectors. Our goal is to provide users with real added value, for example, through intelligent networking and digitisation. We offer a versatile mix of software and hardware solutions for the patient's bedside through our subsidiary BEWATEC.ConnectedCare GmbH. Patients and nursing staff are able to communicate digitally and be integrated into processes – making for a more efficient daily work routine and a more comfortable hospital stay for patients. You can find out more about the ConnectedCare platform and the BEWATEC tablets here. Our customers benefit not only from our innovative high-quality products, but also from our competent service. We support you all the way from the consulting phase through to the development and implementation of your customised solution.