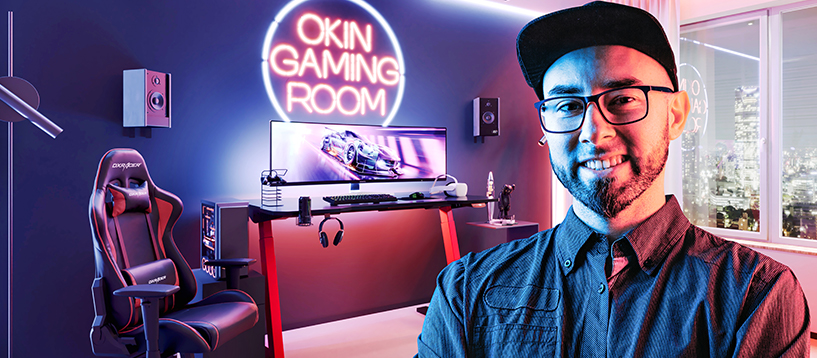 Gaming
Reliable technology for a relaxed gaming experience
Whether as a purely recreational activity, a hobby, or in the higher-ranked pro-gamer e-sports leagues, computer games and gaming are becoming increasingly popular across all age groups. Many games are often played for several hours at a time, which means that the expectations on the technical equipment and furniture are very high for minimizing health problems and risks. Excessive sitting can lead to back pain, fatigue and concentration problems – so ergonomic equipment is very important. Height-adjustable gaming desks enable you to counteract lack of movement by flexibly moving to different positions.
Individualized design and versatility
Naturally, every gamer has different requirements for the equipment used in their gaming configuration. DewertOkin's height adjustable gaming tables offer a wide variety of designs, control keypads for adjusting position, and tabletop sizes. Our smart drive systems – consisting of lifting columns such as the DD451.2, control units and control keypads – are the prerequisite for ensuring reliable functionality and ergonomics. Our multi-piece tubular steel frames have side-mounted profiles and can be adapted to different tabletops from 1100 to 1800 mm in length. Thus, they provide enough versatility and space for monitors and accessories. Our table system is available in red-black, but the colour scheme can be adapted to customer requirements. To round off this gaming configuration, we offer additional accessories such as cup holders and mounts for headphones or controllers.
The reliable partner for functional table systems
Thanks to our many years of experience with electrically adjustable desks and the furniture sector, we understand the needs of manufacturers and end users. All our products and components are certified. They also undergo continuous safety testing to ensure their complete functionality and safety. Our modern single-stage OKIN DD451.2 lifting columns are the ideal solution for an ergonomic desk. In addition to allowing for saved memory positions, our intelligent control units feature practical collision detection or a digital height display, depending on the control keypad being used. The high-end AB02.001 handset, for example, provides all the important functions, features an attractive design, and can be easily slid under the tabletop.