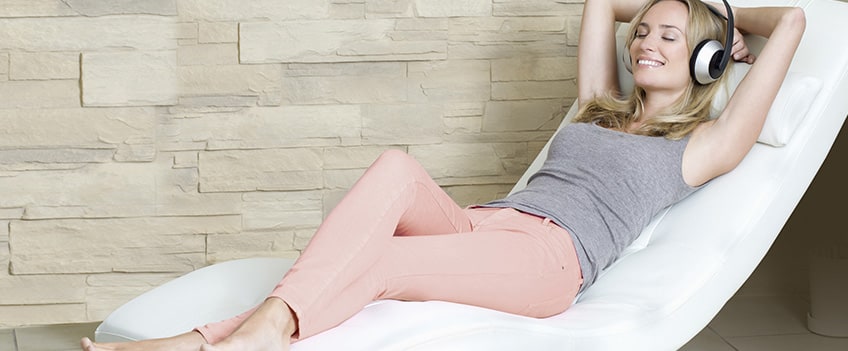 Powerful drive technology for adjustable armchairs
Adjustable armchairs with motorized back and foot sections are currently quite popular: Reclining television armchairs and other reclining seating are expected to be very comfortable. Stand-up chairs, which are particularly relevant for seniors, have a motorized adjustable stand-up assistance feature, which helps to promote mobility. Modern motorized armchairs are being configured with more special features, such as Bluetooth® or memory functionality, that provide real benefits for their users.
OKIN is a specialist in drive and system technology for motorized armchairs, with more than 20 years of experience in the seating industry. We not only manufacture components such as drives, control units and control keypads, but also design and implement tailor-made customized projects. In the joint planning phase, we custom-design the entire system and program the required functional sequences to match the customer's requirements. Our customers also benefit from our speedy delivery times and global sales network that is able to help them with any service issues.
Compact drives for adjustable armchairs
The elegant design of many modern adjustable armchairs leaves little room for electrical components. That is why OKIN drives have a very compact construction. With their minimal installation dimensions, they enable a large lifting stroke even in confined spaces. The drives operate with a pushing force of up to 6,000 N compressive force – thus, despite their compact design, they are suitable for a wide range of applications and heavy-duty tasks. They also feature outstanding reliability and a gentle adjustment mechanism for the height, back or foot section.
Control units and control keypads: a wide range of functions for adjustable armchairs
Intelligent control units are essential for implementing customized motion profiles and extended functionality. The are capable of connecting with up to four OKIN drives, a massage function and two built-in floor lights. The patented brush-sparking evaluation function makes it possible to save customized memory positions for OKIN drives without Hall sensors. The built-in bi-directional 2.4 GHz radio control enables wireless operations for all functions thanks to our patented, interference-free wireless transmissions. We have a wide selection of matching wireless hand-held transmitters for adjustable armchairs and many optional components (USB chargers, etc.).
The OKIN control units have built-in Bluetooth® so that the motorized armchairs can be operated using mobile devices.