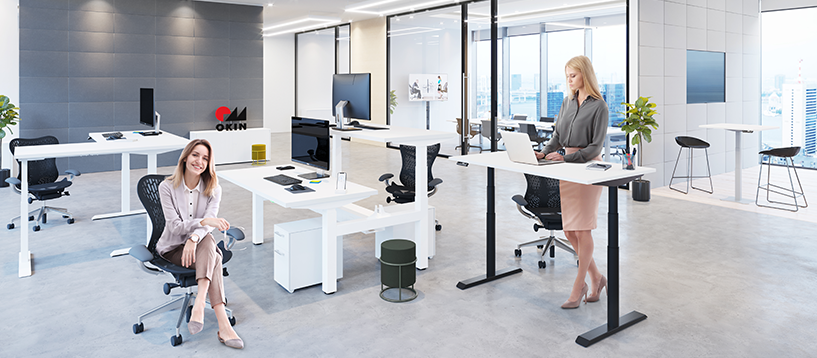 Office furniture
Smart technology for height-adjustable tables
Most employees in German offices sit at their desks for at least eight hours a day. Yet the human body is not designed to sit for that long. This has resulted in an increasing number of back complaints among office workers. That is why ergonomic furniture has been the focus of attention among employees and employers in recent years.
However, a modern reliable height-adjustable desk cannot function without equally powerful drive technology. With the OKIN brand, DewertOkin offers furniture manufacturers an extensive product portfolio of drives, control units and complete table systems. They ensure comfortable and precise height adjustments for desks.
The all-round drive package from OKIN
DewertOkin has more than 20 years of experience in the furniture industry. As the market leader in the field of drive and system technology, the company understands the demanding requirements of furniture manufacturers and knows how to implement them. Whether it is drives, control units, control keypads or entire table systems: OKIN has the proper solution. The customer only has to add the tabletop to put together an individually tailored desk.
The broad range of products includes desk systems for a wide variety of applications. OKIN provides systems with up to six drives. Compact one-legged desks, space-saving two-legged tables for the home office or six-legged conference tables: OKIN has the best solution for all customer needs.
Office solutions with system
The DS3.351.3 table system is the stable solution for demanding tasks. It is suitable for constructing tables with three lifting columns. The DS4.371.3, on the other hand, features a 2x2 motor system with four lifting columns. Both products provide the foundation for practical benching systems that combine two two-legged tables. This creates significantly more space in the office. The DS3.351.3 and DS4.371.3 also excel with their stability, versatility and safety during height adjustments. These systems are supplemented with proven control units and are available with a wide range of manual handsets.