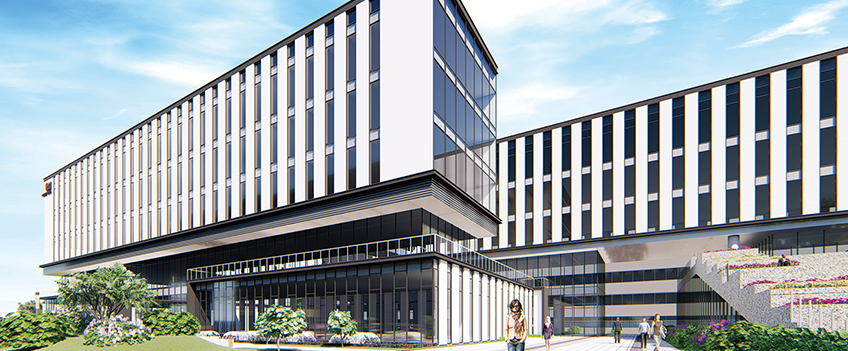 DewertOkin's Innovative Headquarters in China
DewertOkin Technology Group Co, Ltd. is located in Wang JiangJing Economic Zone, JiaXing, Zhejiang, China. This whole area in the Yangtze River Delta is a center for development, technology and innovation. As a result, the local conditions of the facility are perfect to constantly expand our product and service portfolio in a modern working environment.
DewertOkin Technology Group Co., Ltd., formerly known as Okin Refined Electric Technology Co., Ltd. reached an important milestone in July 2017, when a new 36,000 sq mt building dedicated to the Smart Office Division was opened.
In 2023, the new DewertOkin Industrial Park was completed. A brand new state-of-the-art modern industrial complex that counts over 150,000 sq mt of constructed area, including two production plants, a five-stores office building and a stylish 800+ sq mt showroom to display our innovative Drive and System Technology, and much more.
Automatization and digitalization are present in every corner of the new production areas, with full- and semi-auto production lines, welding and soldering robots, automated test equipment and digital process connection. All production processes are controlled internally for vertical integration, lean manufacturing and total quality control.
With this, the DewertOkin Technology Group reached a new level of automation and will concentrate its technical expertise in the new complex to increase efficiency and provide even more excellent components and outstanding services to its customers: leaner production and higher output to be more productive than ever before.
In a modern working environment, highly skilled professionals in JiaXing design trendsetting products for various applications in the Bedding, Seating, Office and Medical sectors. The extensive product portfolio, ranging from drive and system technology to functional chair mechanisms and accessories, is being continuously expanded. The focus of the product design is always the combination of highest quality, functionality and reliability.