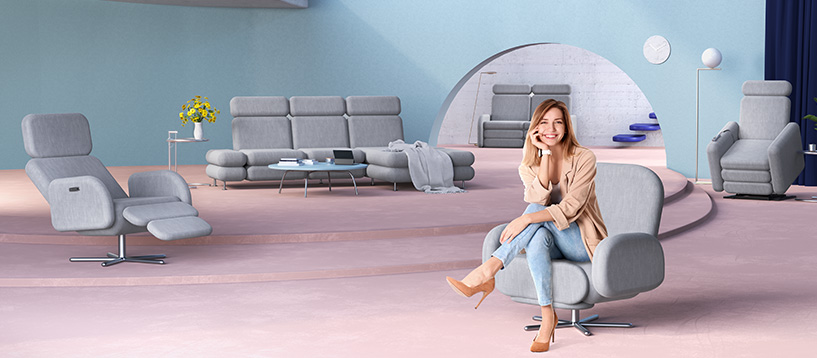 Residential seating
Smart technology for adjustable comfort armchairs
For many people nowadays, adjustable seating furniture is an essential aspect of comfortable and ergonomic interior design. Whether it's reclining armchairs and sofas, or other variants: Comfort furniture is convenient and versatile seating which takes advantage of modern technology to provide much more than just a comfortable experience. Stand-up chairs are a good example of this: With motorized stand-up assistance, they promote the mobility of elderly and physically impaired people.
Comfort armchairs and sofas provide much added value – including a USB connection for charging mobile phones and app-based controls. This creates an ideal combination of comfortable seating and practical functionality for everyday life. DewertOkin accompanies furniture manufacturers from the project planning phase of their furniture all the way to the finished application. Our broad product portfolio means that there are hardly any limits to customer-specific requirements. Whether it's individual motion profiles, apps or configuration options – DewertOkin can develop a solution tailored to meet any requirements.
From the drive to the handset: DewertOkin offers the best solution
With more than 20 years of experience in the furniture industry, DewertOkin is the leading manufacturer of drive and system technology for motorized adjustable seating for the comfort segment. DewertOkin takes a holistic approach – delivering a one-stop shopping experience based on its large product portfolio. Among these products are the high-quality functional fittings: as self-supporting "metal to floor" variants such as the 9013.
Powerful and consistently reliable single drives ensure smooth and speedy adjustments for furniture. The JLDQ.19 is ideal for sophisticated, demanding seating furniture. Its powerful force, fast adjustment speed and small installation dimensions provide furniture manufacturers with excellent design versatility.
The new Ridge line of handsets ensures maximum ease of use. They can be used to precisely adjust the head, back and foot sections. Easy operations are ensured by the ergonomic high-quality design and the home button. The product portfolio is supplemented by a wide range of accessories – including cup holders, sensors and built-in control keypads – that can adapt to the design of the furniture.