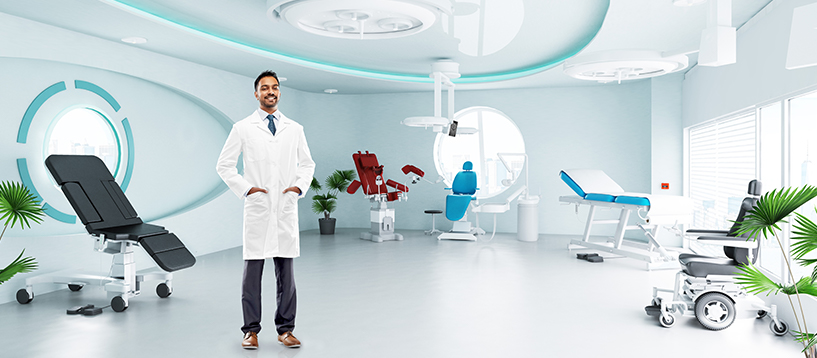 Treatment
The best drive solution for treatment applications
Drive technology for treatment applications – for use in physiotherapy, dialysis and dental practices – must meet challenging requirements. Such drives must provide more comfort for patients, be compact enough for installation in tight spaces, while still ensuring high performance. Drives and system technology from Dewert unite performance with an optimised design. This gives users the most versatility and freedom while designing the layout of their applications – all at an optimum price/performance ratio.
Electrically adjustable treatment chairs and tables, examination tables and chairs, and wheelchairs are all becoming more popular in the treatment sector. They provide more comfort and independence for patients during medical or cosmetic procedures. Reliable drive technology is essential to ensure the precise, safe adjustment of applications. After all, patients themselves should be able to easily adjust their treatment chairs and tables. The drive technology features a slim design, which gives the designers of the end product more freedom.
A broad product portfolio that covers all circumstances
The Dewert portfolio includes high-performance single drives (such as the MEGAMAT 20), intuitive control keypads (the IPROXX 2), as well as very stable lifting columns (Dewert's DC20 lifting column). These feature whisper-quiet operations to compliment the smooth and quick adjustments, thus ensuring outstanding comfort. What makes them unique is that, despite their very small size, these lifting columns have a very large lifting stroke, providing excellent versatility to users.
Medical applications are very demanding – and Dewert is already offering intelligent system solutions with pioneering technology that meet these requirements.