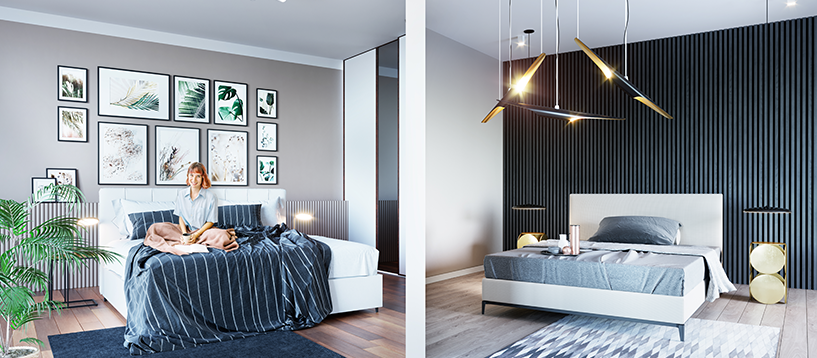 Bedding furniture
Reliable technology for adjustable beds
Electrically adjustable comfort beds and box spring beds ensure outstanding comfort in everyday life. They turn your own bedroom into an oasis of well-being. Users can switch seamlessly to an ergonomic reading position or comfortably put their feet up and relax. Adjustable beds also make getting up easier. The modern control keypads enable users to select from numerous functions.
The key features for this type of bed are the smooth changes in position and the excellent user-friendliness. This is achieved by taking advantage of intelligent components. OKIN is the world's leading supplier of drive technology for motorized adjustable beds. The OKIN brand encompasses a broad portfolio for users – with products that can be used for mid-range and high-end applications. OKIN develops drives, control units, handesets and practical accessories. Together with customers, OKIN also develops customized system solutions that include the required drives, appropriate control keypad and the optimal control unit.
Innovative technology for more comfort
Bed manufacturers benefit from a wide selection of single and double drives for adjustable beds. As the inventor of the double drive, OKIN benefits from unique experience in the market. The powerful drive solutions have variable adjustment loads of up to 2 x 6,500 N for the head and foot sections; this powerful pressing force is particularly important for adjustable box spring beds.
OKIN has a wide range of different control keypads available for operating the beds and their drives. The RF Topline, for example, has up to 15 buttons. It is the perfect hand-held wireless transmitter for the demanding high-end sector. OKIN's patented, absolutely interference-free 2.4 GHz radio transmission technology transmits key entries reliably at all times. OKIN's hand-held wireless transmitter combines many functions in a single elegant control keypad and can be combined with all OKIN systems. This product can implement different movement profiles and includes functionality such as floor lighting.
OKIN also offers a wide range of optional components for adjustable beds. These include massage motors, LED lights as well as USB chargers and sockets for charging mobile devices such as mobile phones or tablets. Many OKIN control units feature powerful connectivity: built-in Bluetooth® for connecting to iOS and Android devices.
Customizable
On request, OKIN can implement systems for one or more electrically adjustable comfort / box-spring beds as well as bed-base suspension. By connecting multiple control units, different motion profiles can be used and the bed's two twin sections can both be moved synchronously. Thus, both twin sections of the bed can be moved either synchronously or separately from one another, using only one of the hand-held transmitters.
Convince yourself of our product portfolio for the Bedding sector!