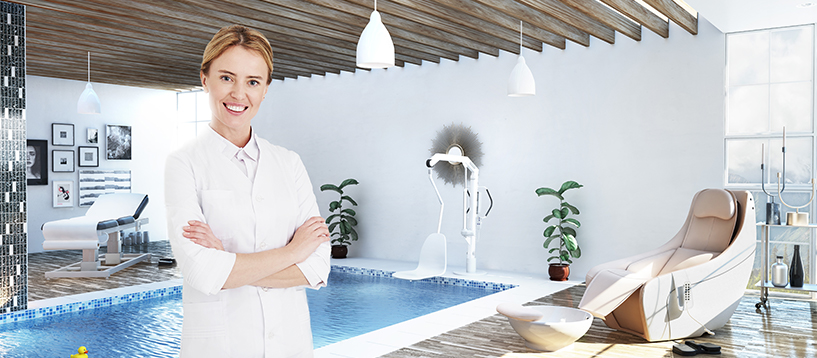 SPA
Drive technology for the growing spa market
Wellness and beauty treatments as well as stays in spa facilities are becoming increasingly popular to balance out work-related stress and fatigue. Such treatments are also being offered more frequently as part of various therapies. For this expanding spa market, the top priority is comfort. In order to make wellness applications as comfortable as possible, more and more providers are relying on electrically adjustable treatment chairs and tables. Precise, safe drives and convenient operations are essential to ensure smooth and fast positional adjustments.
Dewert's solutions are ideally suited to the requirements of the spa sector. The powerful drives move very quietly and smoothly. The controls and operating elements provide intelligent functions with added value for the user.
Maximum comfort for spa applications
The market for these solutions is huge; in many countries, such as the USA, pool lifters are required by law for every public swimming pool. Thanks to their high IP protection class, Dewert's products are perfectly suited for use in and around water. This protection is also very important when using massage oil and other liquids during spa treatments.
All applications require a high level of precision and reliability when adjustments are carried out – these are Dewert's key qualities. The ACCUCONTROL system from Dewert offers overall functionality that is precisely tailored to these requirements. In addition to safe and durable operation, the ACCUCONTROL system is also designed for easy integration into a patient lifter. The ACCUCONTROL technology also has advanced overload protection, single-fault protection and self-monitoring for service and maintenance.
Everything from a single source
Dewert offers a wide range of components – including control units, drives, handsets and accessories – so that users not only get a drive, but also receive a complete solution from a single source.