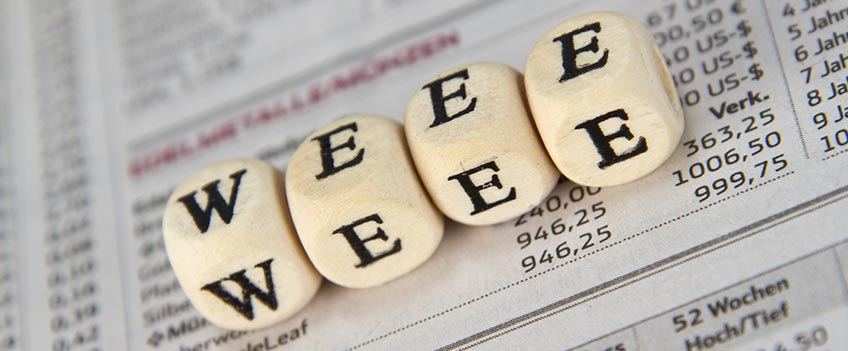 Cost-free and environmentally-friendly disposal of DewertOkin electrical components
Products from DewertOkin GmbH from the segments of Office, Bedding and Seating are categorised and registered in accordance with the European WEEE Directive. This allows you to hand in DewertOkin electrical components at municipal collection points in Germany free of charge. Against the background of increasing electrical and electronic waste, we are simultaneously making an active contribution towards protecting the environment. Our official registration number (WEEE-reg. no.) is: DE 81994808
What is the WEEE Directive and the ElektroG?
The EU directive "Waste of Electrical and electronic equipment" (WEEE) aims to avoid electrical and electronic equipment waste or to reduce it by recycling or re-usage. In this regard, it sets down the minimum standards for the treatment of waste electronic equipment. The Electrical and Electronic Equipment Act (ElektroG) implements this directive in Germany. Consequently, waste electronic equipment is recycled ecologically. In this way, product responsibility has been extended to the complete life cycle of the equipment. With this amendment to the ElektroG effective on 15 August 2018, the area of application of the law will be extended to electrical components which DewertOkin has in its product range.
Joint contribution to the environment
Nowadays the development of new technical equipment is making rapid progress. This does not only apply to smartphones, notebook computers or television sets but also to electrical and electronic components of different types. The amount of electronic scrap is also therefore growing at the same speed. In Germany alone every citizen produces about 15 kilograms of electronic scrap which is not re-used. In the long run this burdens the environment and climate.
Electrical appliances contain not only valuable raw materials such as aluminium, gold or copper but frequently also materials that are hazardous to health and ecologically harmful, such as mercury. Therefore, the equipment must be separated when collected and utilised. The WEEE Directive ensures this separation and makes the process considerably easier by simply handing in the waste electronic equipment at collection and recycling points. This protects health and the environment. Furthermore, the directive contains specific collection, recycling and utilisation quotas to encourage area-wide utilisation.
Which types of devices are affected by the new ElektroG?
At the collection and recycling points, the electrical and electronic equipment is sorted into six collecting groups so that it is easier to receive the different types of equipment during the preparation for recycling.
"Large domestic appliances, automatic output devices"
"Cooling units, oil-filled radiators"
"Screens, monitors and TV equipment"
"Lamps (lining required, e.g. inlays, fluorescent tube boxes, etc.)"
"Small domestic appliances, information and telecommunications equipment, equipment for entertainment electronics, lamps and other lighting fixtures as well as equipment for spreading or controlling light, electrical and electronic tools, toys, sports and recreational equipment, medical products, surveillance and monitoring mechanisms"
"photovoltaic modules"
At the end of the recycling process, the raw materials recovered for recycling, for example metals or plastics, can be used for the production of new products or for energy recovery.
Summary of practical advantages of the WEEE registration
Simple and free drop off at collection and recycling points
No time-consuming "recycling facility search"
Reliable utilisation of raw materials
Increase in the recycling quota of electronic scrap
Active contribution towards climate protection