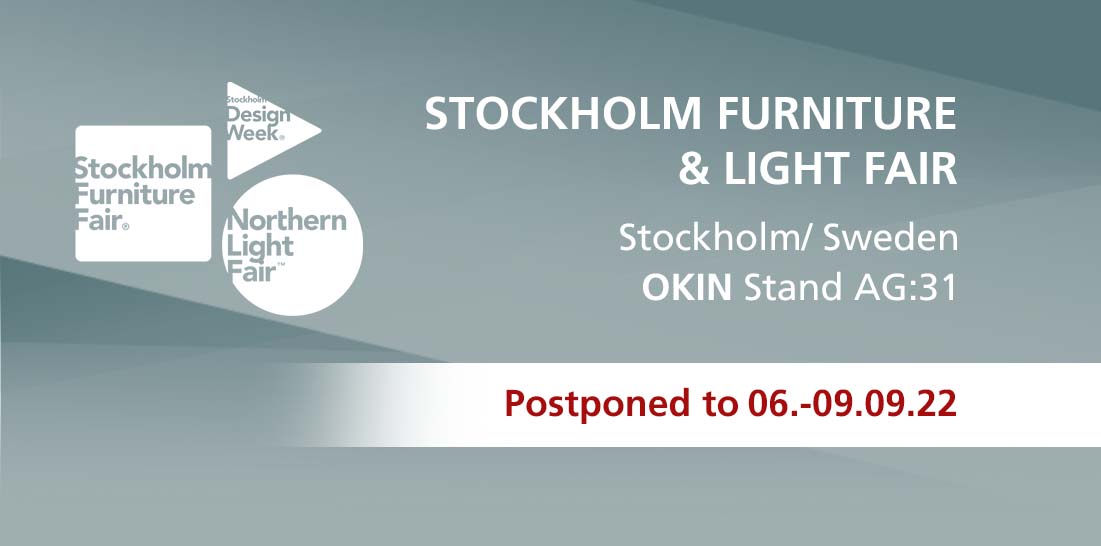 Stockholm Furniture & Light Trade Fair 2022 is postponed to September
Unfortunately, the highly anticipated Stockholm Furniture & Light Trade Fair 2022 will now be postponed after all. Considering the international character of the fair as well as the current global situation and the spread of Covid-19, the organizers have decided to reschedule this furniture trade fair from February to September 6 – 9, 2022.
Nevertheless, preparations for the trade fair are in full swing here at DewertOkin. In September, we will be exhibiting our powerful lifting columns, including the DD371.3, intelligent control units and user-friendly control keypads, such as the AB02. To ensure a healthy ergonomic working environment, we provide complete lifting column systems for height-adjustable office furniture that feature functionality, outstanding safety and freedom of design. Our DS2.441.3 system contains two DD-series round lifting columns, frame components and table feet in a set. The drives may be operated using one of OKIN's control units. The variable-length table frame consists of a multi-part tubular steel frame with side profiles. It is smoothly adjustable in lengths between 1,100 and 1,800 mm.
If you have any questions now about our products and services for the office sector, please do not hesitate to contact us!
We wish you a pleasant and, above all, healthy time until then.