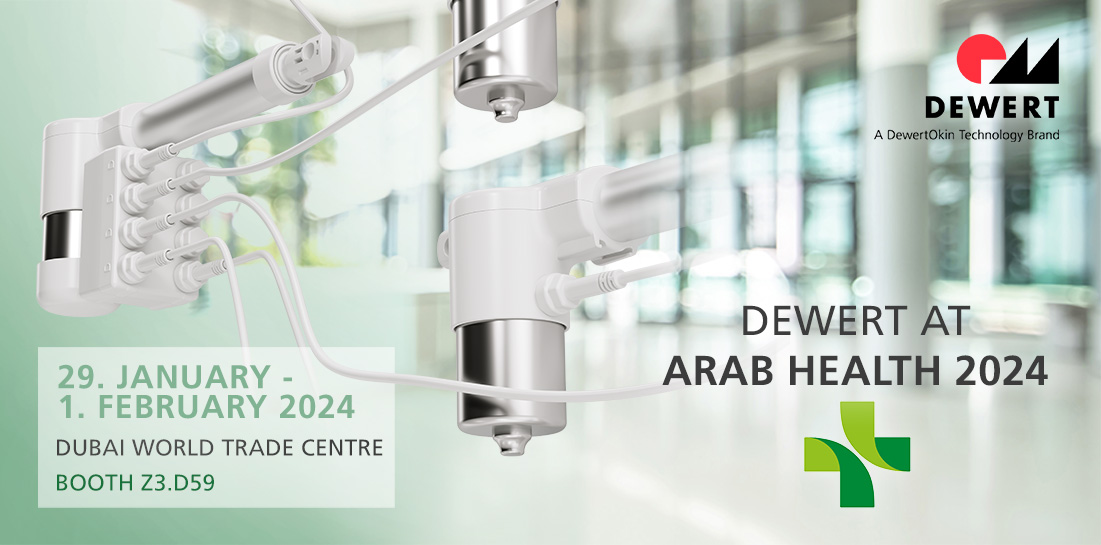 Visit Dewert at Arab Health 2024
Modern patient-oriented care requires powerful drives and system technology. Dewert will be presenting a variety of solutions for nursing and hospital applications at Arab Health 2024 in Dubai.
Our new line of lifting columns awaits you at the Dewert trade fair stand. The lifting columns DC22 and DC23 have a pushing force of 2,000 N to 6,000 N. They can be used for anything from central column applications to bariatric applications. The lifting columns are also available as an integrated complete system together with the MEGAMAT 20.
And speaking of the MEGAMAT 20: Dewert is presenting system solutions based on the powerful single drive at Arab Health. The MEGAMAT 20 features a high protection class, an integrated position detection function, compact design, and an optional BUS-based control unit. It is perfect for use as the foundation for comprehensive bed systems consisting of several interconnected components: including drives, control units, sensors and control keypads.
The JLDQ.29M single drive will also be presented. Specially developed for high loads, this drive is quiet, powerful and fast. With an adjustment force of 8,000 N, it is the ideal single drive for use in demanding applications.
The configurations of nursing and hospital beds must always be considered holistically – and versatility should not be neglected. With this in mind, Dewert presents the Eco Patient control unit. This is a cost-efficient complete solution, featuring a compact powerful lithium-ion battery, with no customer installation required. Whether it's a ready-made system solution or an extension for existing beds, users can always rely on our new add-on accessories that enhance the quality of care and fit into existing systems – including out-of-bed sensors, USB chargers, under-bed (floor) lighting and reading lamps.
Other highlights at our Arab Health stand include new control units for patient lifts and transporters as well as many applications featuring Dewert technology. With the help of these application examples, you can immediately convince yourself how practical our innovative solutions really are.
We are looking forward to your visit:
Arab Health 2024
Dubai, 29 January to 1 February 2024
Dewert Stand Z3.D59
Arrange a personal meeting with us and we'll give you free admission to the trade fair. Simply register at info@dewertokin.de.