DewertOkin supplies actuators for Danish company SKOV
Success story from Scandinavia: OKIN has been awarded the contract to supply the Danish company SKOV with drive solutions. The company invests annually in 1,000 DELTADRIVE drives with potentiometer, stainless steel spindle and screws. These are used to adjust the ventilation systems in pig barns. The company's requirements were high: the drives had to be robust enough to be used in very difficult environments such as pig farms. Therefore, the challenge was to offer the customer powerful and fast solutions, which at the same time have a high degree of reliability and longevity.
Cooperation at eye level
First, a sample based on the desired specifications was created in cooperation with SKOV's R&D department. This was followed by an intensive test phase in the OKIN laboratory and at SKOV internally as well as in the real environment of a pig farm. The necessary adjustments were made on the basis of these results and the process was completed.
OKIN has succeeded in meeting all SKOV requirements with the finished product and achieving the specified price target. The customer was particularly satisfied with the fast and flexible development process and the delivery time. We are delighted with this order, which is an example of the increasing success in the Scandinavian market.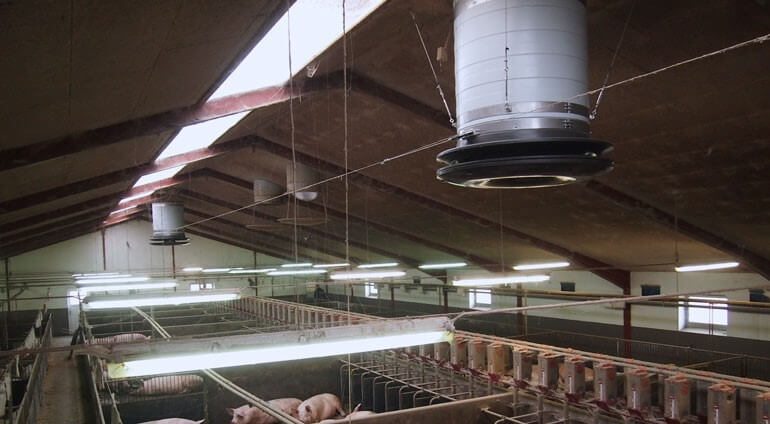 The picture shows a SKOV air supply unit especially for monoblock houses without wall inlets. It offers high performance at low air velocity in the animal zone to ensure optimal air distribution without exposing the animals to draughts
About SKOV
Founded in 1966 by the Skov brothers, the company of the same name develops and produces systems and components for ventilation systems, stable air cleaning and production controls. Today, the Danish company is one of the world's leading companies in the market for climate control and farm management of livestock production. SKOV employs more than 370 people and since 2004 has a subsidiary in Bangkok, Thailand and a software development department in Malaysia.