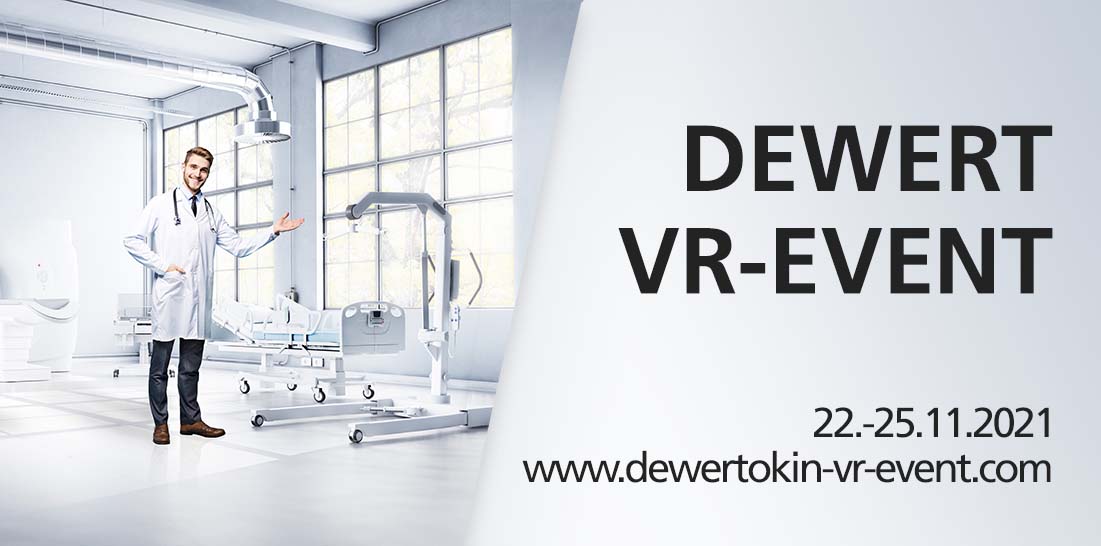 The Dewert VR event Medica goes into the second round
After the great success of our Dewert VR fair last year, we would like to invite you to our VR event again this year - the virtual Dewert trade fair Medica! Our digital event will take place from 22 to 25 November 2021 and will once again offer our customers and partners the opportunity to make contact from any location. Our employees will be available for questions and discussions between 10 a.m. and 6 p.m, (CET). However, you can visit the virtual trade fair at any time on the days mentioned.
Alongside a wide range of virtual application exhibits in our hospital and care showrooms and spa and treatment areas, you can also expect interactive product presentations and insights into our latest innovations. We are presenting a completely new, intelligent product series that takes modern hospital and care technology to a new higher level. Our smart components such as the Megamat20i, the IPROXX20i, as well as the MC20i and MC21i, enable digital communication and data exchange between each other thanks to an integrated control unit, making entire systems more flexible and fit for the future.
While at our VR event Medica, you have several options for contacting our sales representatives directly - either by phone, live chat or video call. You are also welcome to make a personal appointment in advance or contact us if you have any questions about our virtual trade fair!
Dewert VR Event Medica
22 until 25 November 2020
10 a.m. - 6 p.m. (CET)
Link www.dewertokin-vr-events.com
Just click on the link to go to our VR events page. There you can register in advance and log in at the time of the event to visit our virtual trade fair.
No travel, easy online access, new and exciting networking opportunities - visit us at the Dewert virtual exhibition booth!
Until then, we wish you good health and a good time.