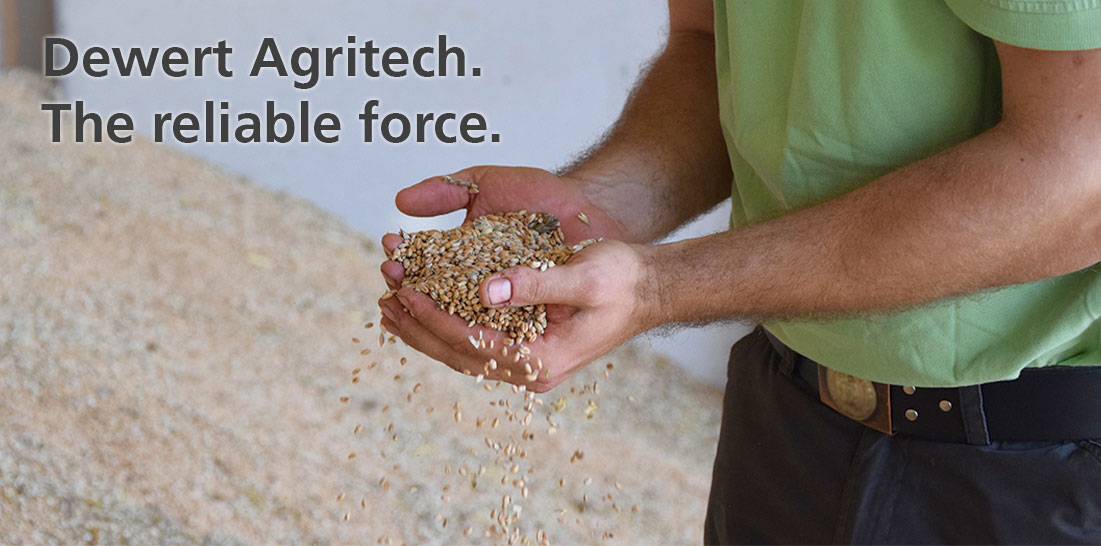 Dewert Agritech drives in a new video
Many possible applications for Dewert Agritech linear drives
For use in extreme conditions: Agricultural machines (such as combine harvesters, round balers or field sprayers) are exposed to strong vibrations, dust and heat. These machines must have reliable drive technology and must constantly meet the most demanding conditions.
Get a first impression of how the new drive technology from Dewert Agritech is being used here in our new video.
Dewert Agritech linear drives for the agricultural industry meet the high standards of this sector. They feature high push and pull forces in a compact yet robust housing. Thus, they are ideal for installing into demanding systems that only provide limited space. The intelligent drive technology permits precise positioning – thus opening up a wide range of possibilities for agricultural and municipal machinery.
LD75 for agricultural and off-highway applications
The LD75 linear drive is designed especially for use in extreme conditions: Its application area includes mobile applications in the agricultural sector, and it is the ideal drive technology for all types of adjustment and metering mechanisms from animal feeding to automated selection. Thanks to its high resistance to environmental stresses, the LD75 provides outstanding operational safety even in intense heat of +65 degrees Celsius and freezing cold of -30 degrees Celsius. It can withstand the UV radiation of the sun for many years without any problems. The maintenance-free 12 and 24 V DC motors provide the drive system with a high level of reliability.
LD600: Powerful drive for stationary agricultural applications
The LD600 is designed for demanding stationary applications in the agricultural sector. Its application areas include equipment for controlling the ventilation and shade in stables, storage and production buildings as well as for controlling the opening and closing of, for example, feed silos, barriers and animal guidance systems. The robust design and the high protection class enable usage even in the most extreme conditions. With an adjustment load of 6,000 N (pushing) and 4,000 N (pulling), the LD600 is a powerful drive which stands out thanks to its high stability. Its installation dimension is 180 mm plus the selected stroke, and has a maximum stroke of up to 500 mm.
LD1000: Powerful linear drive for agricultural and off-highway machines
The LD1000 linear drive stands out due to its high performance and extremely robust housing. Thanks to its high pushing and pulling force of up to 10,000 N and maximum stroke length of 1,000 mm, it is designed for particularly demanding tasks in the agricultural and off-highway sector. The LD1000 has a robust housing made of die-cast aluminium with a stable casing made of anodised aluminium profile and a lift pipe made of stainless steel. The stroke length is at least 100 to 1000 mm with an installation dimension that varies depending on the stroke length. Therefore, this drive is predestined for demanding use in agricultural technology.
You can find further information about our drives on our home page.
Convince yourself of our product portfolio! We would like to invite you to the Dewert Agritech stand at
Agritechnica 2019
Hanover, 10 to 16 November 2019 Hall 17, stand B46
Arrange a personal meeting with us and we'll give you free admission to the trade fair.